Call for Abstracts Deadline Extension - Athens 2018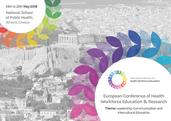 Following multiple requests from INWHE members the deadline for abstract submissions for the European Conference on Health Workforce Education and Research has been extended to 23:59 (CET) on Friday 27th October 2017. We look forward to receiving your abstracts!
The European Conference of Health Workforce Education & Research will take place at the National School of Public Health in Athens, Greece on Thursday 24th and 25th May 2018. Hosted in collaboration with both the National School of Public Health, the International Network for Health Workforce Education holds a number of conferences to promote interdisciplinary co-operation and critical understanding of the latest research in the field of health workforce education, training and development within continental regions and beyond. The Conferences bring together researchers, educators, trainers and policy makers from around the world who are engaged and active in health workforce education.