Webinar Announcement: Digital Skills for Health Professionals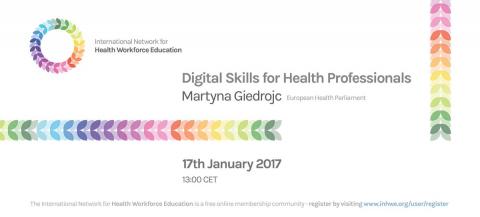 We are very happy to announce the latest addition to our Webinar Series, presented by Ms Martyna Giedrojc from the European Health Parliament. The webinar will focus on Digital Skills for Health Professionals.
Digital technology, including mHealth and eHealth, is an inevitable part of the future of international healthcare. Policy makers consider digital literacy among health professionals to be paramount for the successful, effective and ethical implementation of digital solutions in healthcare. But are health professionals really prepared? 
The seminar will be based on findings from the European Health Parliament survey which includes insights from over 200 health professionals about their experience with digital health solutions. The project's findings include the observation that widening digital literacy in healthcare depends on sufficient demand for digital healthcare, and project recommendations include ensuring that the continuous education of health professionals in digital health technology a central part of the health workforce education agenda for digitizing healthcare. 
The webinar will have the following benefits:
allow participants, in their capacity as trainers and educators, to understand the concerns of current healthcare professionals;
teach participants to adapt continuous professional training for current professionals and change educational courses provided to future healthcare professionals;
enable participants to understand how the legislation process works at the European level;
inform participants about what the EU is doing in the digital literacy sphere.
Ms Martyna Giedrojc is the Communications Manager for the Digital Skills for Health Professionals Committee of the European Health Parliament. She is also the Policy Officer for Health Systems at the European Public Health Alliance (EPHA) based in Brussels. The webinar will be scheduled for the Winter of 2016/17 and is available completely free of charge for members. Further details on how to register will be announced nearer the time on our website.