Webinar Announcement: It's time to Rethink Risk in Healthcare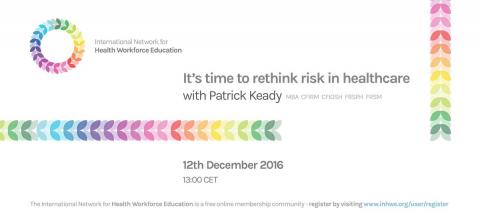 We are delighted to announce the first presentation in our Webinar Series. The talk, titled "It's time to Rethink Risk in Healthcare", will be presented by Mr Patrick Keady MBA CFIRM CFIOSH FRSPH FRSM and explores the many different perceptions of risk in healthcare. These perceptions and views are influenced by educators, trainers, the professions we belong to, and the organisations we work for. Some views are at odds with each other. Other views simply contradict each other. Then there is the question of what risk has in common with clinical practice, patient safety, clinical human factors, quality improvement, governance and internal audit. 
This seminar will introduce five key questions that all educators and trainers need to ask themselves about Risk. The answers will help you as educators and trainers, motivate your students to manage risk better and in turn, enhance their delivery of healthcare to patients. Patrick has worked on risk-related assignments in 80+ healthcare provider and purchasing organisations over the last 25 years. He is the only experienced Director in the UK's National Health Services, who has also held the positions of Director at the World's leading professional body for risk management (IRM) and Chair of the Board of Trustees at the World's largest professional body for safety practitioners (IOSH). The webinar will be scheduled for the Autumn of 2016 and is available completely free of charge for members. Further details on how to register will be announced nearer the time on our website.